The Speech and Hearing Research Group (SpandH) was established in the Department of Computer Science, University of Sheffield, in 1986. Since then, it has gained an international reputation for research in the fields of computational hearing, speech perception, speech technology and its applications.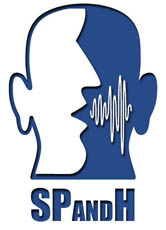 The group is concerned with:
Computational modelling of auditory and speech perception in humans and machines
Robustness in speech recognition
Large vocabulary speech recognition systems and their applications
Clinical applications of speech technology
An aspect of the group which makes it unique in the United Kingdom is the wide spectrum of research topics covered, from the psychology of hearing through to the engineering of large vocabulary speech recognition systems. It is our belief that studies at different points on this Science to Engineering axis can and should be mutually beneficial.
Major research themes are:
Spoken Language Processing by Mind and Machine
SpandH is currently funded by the the Engineering and Physical Sciences Research Council (EPSRC), the Arts and Humanities Research Council (AHRC), the European Commission, the National Institute for Health Research, Action Medical Research, CISCO and dev-audio.